2019 AIGA DESIGN CONFERENCE STUDIO TOUR SERIES:
METRO DESIGN STUDIO
Presented by AIGA LA
Tour date: April 4, 2019

California grows its own ideas. Witness our untamed style and sui generis processes that spring from a state that has been an influencer before that was a word. Curated by members of AIGA Los Angeles, attendees are invited to arrive early and register for one of these exclusive behind the scenes tours featuring: BLT Communications, Corita Art Center, Judson Studios, La Más, Metro Design Studio and Walt Disney Animation Studios. Space is limited and will sell out quickly. Additional studios to be announced.

ABOUT METRO DESIGN STUDIO
Since forming in 2003, Metro's Design Studio has created award-winning core communications elements for the nation's third-largest transit agency, including advertising, wayfinding and environmental graphics, timetables, maps, fare media and customer information, bus and rail fleet design, web and mobile presence, and merchandising.

For the past 13 years, Metro's communications work has been a critical component in successfully winning new riders and new funding, including the passage of two sales tax ballot measures (2008 and 2016) which together create a funding stream of some $140 billion over the next 40 years. The agency has received some 120 awards over the last 15 years, including honors from the American Public Transit Association (APTA), Harvard University, The World Bank, the Society of Environmental Graphic Designers and the Public Relations Society of America. Metro's work is included in AIGA's Design Archives and has been featured in the New York Times, the Los Angeles Times, Communication Arts, Creative Review, Fast Company, Print, STEP Inside Design, HOW and Los Angeles magazines. In 2006, APTA named Metro the nation's Outstanding Transportation System, and in 2008, Metro received a ReBrand 100 Best Of Award.

The Design Studio deploys a team of some 30 creatives, designing for every kind of brand experience, including print, environmental, digital and mobile, and wearable applications.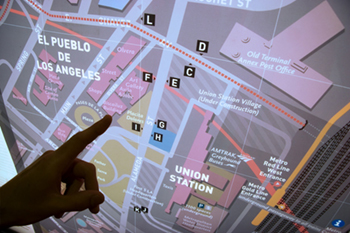 TICKET PRICING
Members: $45
Non-members: $70
There will be no refunds provided due to limited space.

SCHEDULE
8:45—9:00AM: Meet at Pasadena Convention Center
12:30PM: Return to Pasadena Convention Center

SOCIAL MEDIA
Twitter: @AIGALosAngeles
Instagram: @AIGALosAngeles
#AIGALosAngeles

OTHER AVAILABLE STUDIO TOURS
Judson Studios: AIGA Member | Non-member
La Más: AIGA Member | Non-member

SPONSORED BY