ONLINE EVENT
Let's come together as a community and use our breath to focus on the mind and body with the benefits of building strength, balance, and flexibility. In this all-level yoga class, we'll start with a short meditation, followed by a flow that'll leave you feeling great. The only thing you'll need is a yoga mat or a towel. This class will help support a small business.



—
REGISTRATION
Members | Non-Members: Free
Pay what you can, with a recommended donation of $10. This class will help support a small business.
Once you are registered, a link will be sent to you at 10:30AM on Saturday, May 31, with a link to join the online event.

AGENDA
11:00 AM: Welcome
11:05 AM: Instructor Introduction followed by Guided Yoga Practice
12:00 PM: Closing Meditation

SOCIAL MEDIA
Twitter: @AIGALosAngeles
Instagram: @AIGALosAngeles
#AIGALosAngeles
#MentalHealthMatters
#MentalHealthAwarenessMonth
#SundayFunday

ABOUT OUR INSTRUCTOR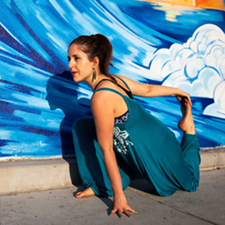 Aylin Pashaian
Aylin Pashaian is an LA-based yoga teacher with 400 hours of training in a variety of modalities such as asana yoga and kundalini. She has a background in classical and contemporary ballet as well as musical theatre. Her mission is to empower everyone to take more space, allow themselves to play, be free, and use a variety of methods to adorn their life and soul. 
Right now, she is offering online classes. She has been working one-on-one with clients, helping them with injuries, flexibility, and personal growth. Also, she's been teaching workshops and group classes in a variety of studios, fitness centers, and corporate environments. She also serves the AIGA Los Angeles design community as a social media chairperson. 
If you want to connect with Aylin, you can find her on Instagram: @adorn.your.life 
---
TERMS OF PARTICIPATION AGREEMENT
By registering and attending/participating at the event, you grant AIGA Los Angeles permission to capture photo/video of the event.

HOW THIS PROGRAM FULFILLS THE VISION OF AIGA LA
Community: Creating open, inclusive, diverse spaces for conversation and connection
Well-being: Improving the community with tools for career growth and life balance

Please consider joining AIGA to support our programs and initiatives.