AIGA LA's next fieldtrip will offer a guided tour of the exhibit, "West of Modernism: California Graphic Design, 1975–1995," followed by a casual lunch at the LACMA cafe.
Note to Attendees: Please meet in front of the LACMA Cafe and bring money for lunch.
TICKET PRICING
$5
Tour is limited to 15 guests. All proceeds will be donated to UNICEF USA.

SOCIAL MEDIA
Twitter: @AIGALosAngeles
Instagram: @AIGALosAngeles
#AIGALosAngeles
#AIGALAFieldTrips
#AIGAinLA
#ArtForAll


ABOUT THE EXHIBIT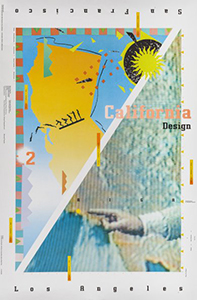 Image: April Greiman and John Coy with Michael Cronan, Linda Hinrichs, Michael Manwaring, Michael Vanderbyl, and Eric Martin. AIGA California Design 2, 1985, Los Angeles County Museum of Art, Marc Treib Collection, © April Greiman and John Coy
The late 20th century was a transformational period for graphic design. Questioning the increasingly rigid rules of modernism, designers pressed for greater autonomy in their work. At the same time, dizzying advances in technology upended existing design and production processes. Far from the established New York design world, California became a haven for avant-garde designers, a hub of innovation in both discourse and practice. The guided tour will offer greater insight into the exhibit, features the work of many influential designers including Emigre, Inc., Ed Fella, Rebeca Méndez, Deborah Sussman, and Lorraine Wild. As well as, April Greiman, an integral member of the design community as well as a member of AIGA LA's Advisory Board.

PARKING & TRANSPORTATION
Parking for LACMA is located at the Pritzker Parking Garage on Sixth Street, just east of Fairfax Avenue, and on the corner of Wilshire Boulevard at Spaulding Avenue. The $16 charge ($8 after 7 pm entry) may be prepaid at a pay station located in each parking lot. During moments of peak attendance at Pritzker Garage, LACMA operates valet-assisted, stack parking at no additional charge. Street parking may also be available. For public transportation visit metro.net for schedules.


---
How this program fulfills the vision of AIGA LA
Community: Creating open, inclusive, diverse spaces for conversation and connection

Please consider joining AIGA to support our programs and initiatives.